Anji Gopal, BSc (Hons), M.Ost
Anji is a London-based back pain specialist who focuses on using Yoga as a practical and gentle way to improve health. She is a passionate advocate of using Yoga as an evidence-informed healthcare intervention and over the last 15 years she has built an area of clinical expertise in Yoga for BackCare.  Anji shares this work in private practice, in the NHS, and as a teacher and educator. Her combination of skills in yoga, back care and clinical practice are unique in the UK and she works with students and patients around the world.
In 2016 she developed and still runs an innovative yoga-based programme for back pain patients in a London hospital – the first of its kind to be offered in the UK. She holds an M.Ost (Distinction) from the prestigious British School of Osteopathy, teaches at Triyoga (Europe's biggest yoga centre), educates yoga teachers (including on the Triyoga Teacher Training) and other therapists, and runs her own osteopathic clinic in London. She is a regular speaker at online training networks for manual therapists.
Her teachers through the years all share a deep knowledge and rigour in their methods of teaching and training. From the yoga world she would like to thank Francoise Freedman, Simon Low, Mira Mehta and Anna Ashby for their kindness and support, as well her osteopathic teachers including Sue Turner.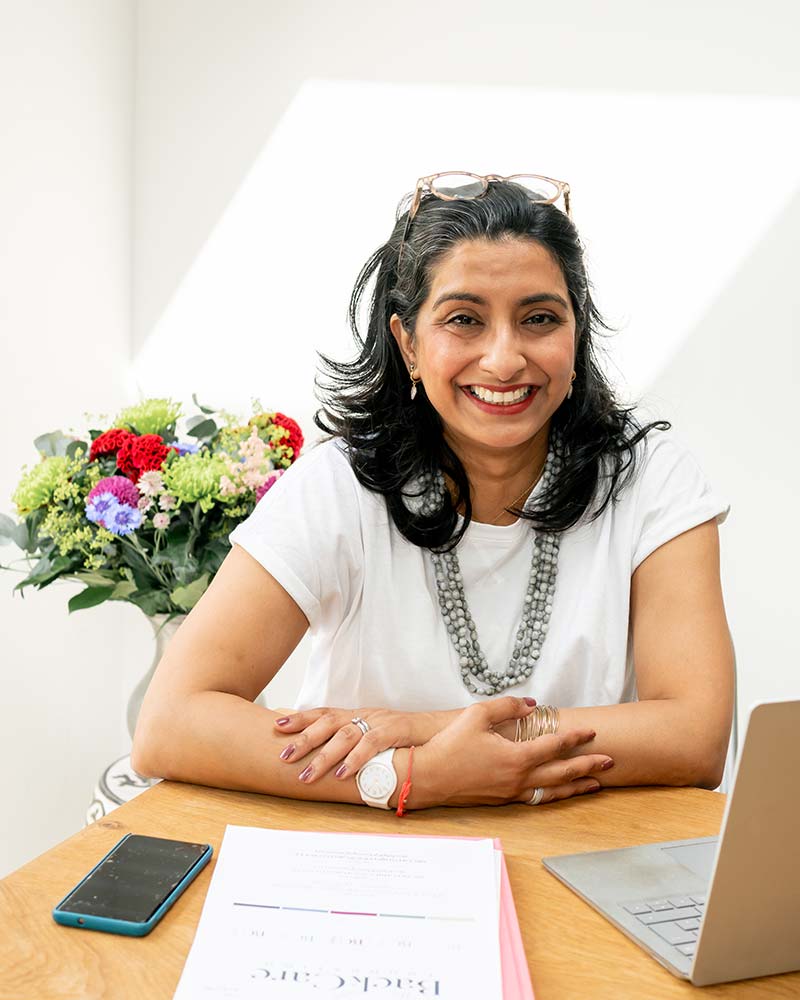 Improving wellbeing and day-to-day life
Anji's yoga approach is to encourage people of all ages, backgrounds and restrictions to find better health through simple, accessible and yet powerful yoga teachings.  Her teaching style is kind, practical and approachable, combining an academic and professional grounding with a sense of enjoyment. She seeks to de-mystify yoga and present it as a useful tool to find health. Anji has been teaching Yoga for BackCare in her own style for over 5 years and her classes are always over-subscribed.
Anji is 49 years old, mum to 2 teenage boys and wife to Mark. Her first degree is in Econometrics and she used to be a quite senior investment banker but has a lot more job satisfaction these days.
Her motivation in developing Yoga for BackCare is to share her knowledge, knowing that this approach improves the wellbeing and day-to-day life of anyone who finds that back pain gets in the way.  To find out about Anji's clinic click here